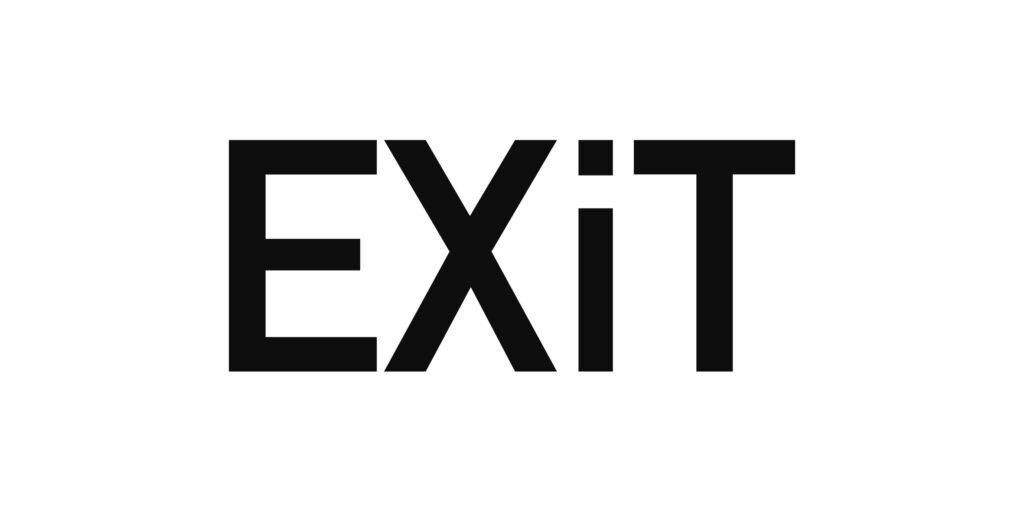 Francesco Loschi, Paolo Panetto
via Gabriele D'Annunzio, 28
31100 Treviso IT
+39 0422 433371
exit@exitstudio.it
–
EXiT is an architecture studio, based in Treviso. It focuses on architectural and urban design as well as interior and landscape design and draws upon the collective professional experiences of its founders in Italy and Portugal.
In 2009 and 2011 EXIT was nominated one of the best emerging architecture firms in Italy by Giarch. The projects realised by the studio were displayed in the Italian Pavilion at the Shanghai EXPO 2010.
The projects were on display in the "Ventisettetrentasette" exhibition dedicated to emerging Italian architecture.
The works of the studio have been published on prestigious national and international magazines (Wallpaper*, Mark, A10, C3, Giornale dell'Architettura, L'Arca, Platform, Domusweb, Archdaily) and selected for "XII Premio architettura Città di Oderzo", "Archdaily Building of the Year 2011".
In 2011 EXiT won the "Barbara Cappochin Prize of Architecture – provincial section". The founder partners of EXiT gave lectures in several Research Institutes and Universities.
Partners
Francesco Loschi (Treviso 1977), architect, graduated at the Università IUAV in Venice and attended a masterclass with Marcel Smets in Landscape Urbanism at QUAP in Treviso. Since 2003 has worked as assistant at construction sites and on executive drawings in Treviso and Trieste, and worked for Pedro Sousa / GB arquitectos in Lisbon.
Paolo Panetto (Treviso 1977), architect, graduated at the Università IUAV in Venice with Massimo Carmassi and attended a masterclass in Landscape Urbanism at the UBA in Buenos Aires. Since 2002 he worked for zD6 – Paolo Ceccon in Venice and Proap – João Nunes in Lisbon. He has been tutor at the Università IUAV in Venice from 2005 to 2012. His writings are published in "Giornale dell'Architettura", "Arch'it", "Piéra", "Quaderni del Territorio".
Prizes
2022 – Barbara Cappochin International Architecture Biennale Prize (regional prize) – selected
2022 – Premio internazionale Domus Restauro e Conservazione – shortlist
2011 – Barbara Cappochin Prize of Architecture (provincial section) – winner
2011 – Premio nazionale di Architettura In/Arch Ance (young architects) – selected
2010 – ArchDaily Building of the Year (refurbishment category) – finalist
2010 – Premio di Architettura Città di Oderzo (housing category) – finalist
Competitions
2019 – PiaveFutura University Campus, Padua (with Cruz y Ortiz arquitectos) – fourth prize
2016 – Liuni Headquarter, Milan – fourth prize
2012 – Bortolin Angelo Winery, Valdobbiadene – second phase
2011 – Private Ranch, Bratislava – second prize
2011 – ARBO Areale Ferroviario, Bolzano (with Cruz y Ortiz arquitectos) – second phase
2008 – Bastione Poligonale del Castello, Treviso – third prize
2008 – Architetti Cercasi 2008, Milan – selected
2007 – Museo Diocesano, Milan (with Cruz y Ortiz arquitectos) – second phase
2006 – Land Slides, Valdobbiadene, Treviso – first prize
2005 – Ryugyang Hotel, Pyongyang – selected
2005 – Hortus Botanicus Patavinus, Padua (with Proap, GB arquitectos) – second phase
2004 – J5 Jovenes arquitectos en Andalucia, Coria del Rio, Seville – third prize
2002 – La piazza di Moniga del Garda, Brescia (with Albiero/Presi) – first prize
Exhibitions
2021 – Una certa idea di spazio, Spazio Solido, Treviso
2018 – TTT Tradizione, Traduzione, Tradimento. Riflessioni sull'architettura montana, Cercivento Udine
2017 – Rassegna Architetti Arco Alpino, Belluno
2015 – I want to see it painted, Galleria Sp3, Treviso
2015 – 10A, Galleria SP3, Treviso
2014 – Generation Project, Spazio Paraggi, Treviso
2011 – Premi Nazionali di Architettura "InArch Ance", Rome
2010 – Giarch Progetti di giovani architetti italiani, Triennale Bovisa, Milan
2010 – 27/37 Rassegna Internazionale di giovani architetti italiani, Italian Pavillon Expo, Shanghai
2010 – Premio Architettura Città di Oderzo, Palazzo Foscolo, Oderzo Treviso
2008 – AAA architetti cercasi, Urban Center, Milan
2008 – Museo Diocesano design competition exhibitions, Museo Diocesano, Milan
2006 – Triennale di Milano, La Piramide del Pacifico, Milan
2006 – Biennale di Venezia, Fiction Pyongyang, Italian Pavilion, Venice
2005 – J5, Convento Santa Maria de Los Reyes, Seville
2004/06 – Nib+Icar Travelling exhibition 2004 Bari, Venice, Rome, Barcelona, Lisbon, Porto
Principal publications and lectures
2022 – Palazzo della luce a Treviso, on Modulo, n.435, Milan pp. 60-63
2021 – Concetta Tavoletta, Contemporary stratification, on Platform, n.30, Milan pp.120-123
2020 – Arpad Zachi, Polo del Gusto. Persistenta Memoriei, on Arhitext, n.2, march-april 2020, Bucharest pp. 5-17
2018 – Federico Mentil (edited by) TTT Tradizione, Traduzione, Tradimento. Riflessioni sull'architettura montana, Lettera Ventidue, Siracusa – pp.52-55
2016 – Images, n.37, june september, Aosta pp.14-15
2014 – Chris Val Uffelen, Sacred Architecture + Design, Braun Publishing, Espenheim, pp. 152-155
2013 – Rock the Shack, Gestalten, Berlin, pp. 180-181
2013 – Estacion Central de Alta Velocidad u Ordenacion, on TC Quadernos – Cruz y Ortiz arquitectura 2000-2013, n.107-108, march 2013, Valencia, pp.322-327
2012 – Salvatore Spataro (edited by), Giovani architetti europei, Lettera Ventidue, Siracusa
2012 – Annabella Bucci, Valeria Marsaglia (edited by), Progetti di giovani architetti italiani vol. III, Utet, Milan
2012 – 1000 x European Architecture, Braun Publishing, Espenhein, p.970
2011 – Archipendium 2012, Archimap publisher, Berlin
2011 – A. Boschetti, M. De Lucchi, L. Freyrie, G. Furlan (a cura di), Superurbano, Marsilio, Venice, pp. 254-259
2011 – Ellie Stathaki, Interactive floor plan Alpine Barn, on wallpaper.com
2010 – Diego Terna, A Journey in the Shadow, on C3, n.316, december 2010, Seoul, pp.94-99 114-123
2010 – Claudio Bosio, EXiT architetti associati, on L'Arca, n.264, december 2010, Milan, p. 29
2010 – Kirsten Hannema, Subtle modifications, on A10, n.36, november december 2010, Amsterdam, pp. 214-221
2010 – Jet Magazine, n.98, october 2010, Hong Kong, pp.176-179
2010 – Salon, n.139, november 2010, Kiev, pp.176-179
2010 – Eugenia Valacchi, Prisma muto, on And, n.18, may-august 2010, Florence, pp.84-88
2010 – Luca Paschini (edited by), Progetti di giovani architetti italiani, UTET, Milan, pp. 214-221
2010 – John Bezold, Let the light tothe work, on Mark – another architecture, n.25, april may 2010, Amsterdam, pp. 42-43
2010 – Ellie Stathaki, EXiT strategy, on Wallpaper*, n. 134, may 2010, London, p. 50
2010 – Eco Refurbishment, Monsa, Barcelona, pp. 64-73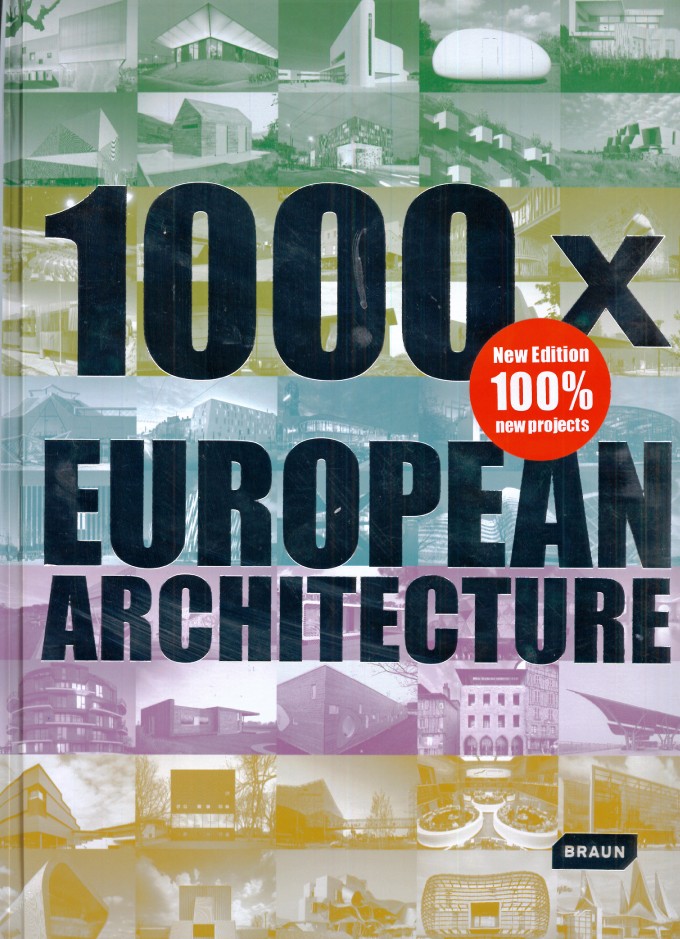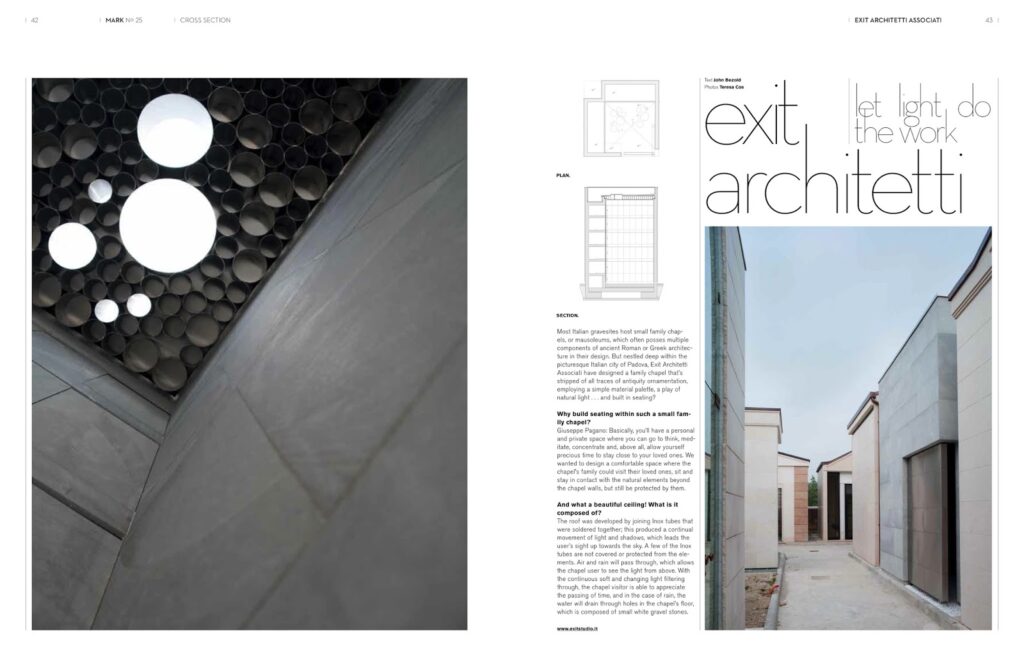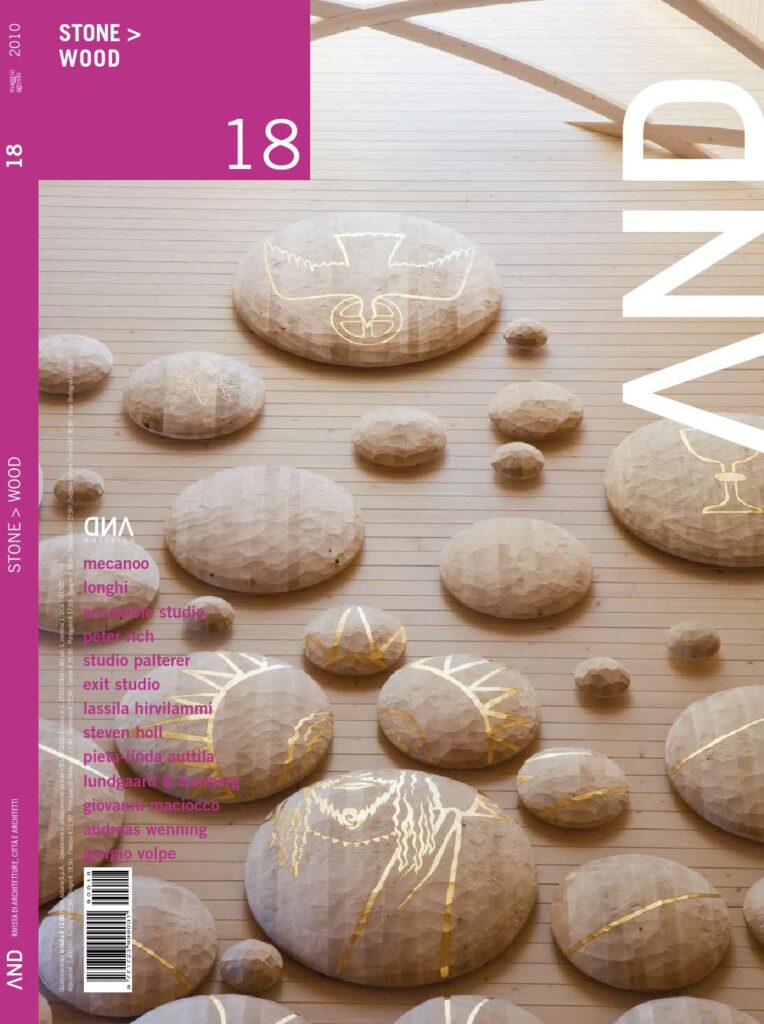 Collaborators since 2006 | Tanja Balasso, Federica Bordin, Elena Bredariol, Fabio Claudio Cervi, Federico Durigon, Shutong Fan, Josuè Garcia, Kevin Henaff, Amine Jelassi, Emily Manias, Alvise Moretti, Monica Martini, Agnese Nascimben, Giuseppe Pagano (partner until 2019), Manon Paile, Costantino Paparella, Ilaria Rigodanzo, Marco Stecca, Isabella Traeger, Devid Vidoni, Hans Ye, Alexandra Wojciak